Matthew & Claire married at St. Paul's Bay in 2004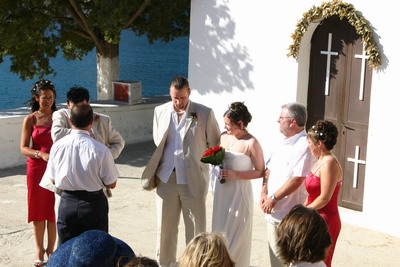 Matt's father organised the accommodation and the final co-ordination was done by Charlotte of "Exquisite". The wedding party took the Love Boat (short champagne cruise from St. Paul's and round to the main bay). Matt's father booked taxis to take the guests from the main jetty to Med east, for the reception. The taxi drivers let him down by only providing one car. Matt & Claire had a good experience but do not underestimate the value of Charlotte's help in making it so good.


Account of a Lindos wedding - August 2002

"We had a wonderful wedding in Lindos. When we arrived we took all the paperwork (2 x non impediment for marriage 2 x birth certificates all translated with Apostille De Hague seals on) and went straight to the Mayor's office and arranged the date and time - 7.30 on 2nd August at St Pauls Chapel, St Pauls Bay - only a 5-10 minute walk - which can be seen from the Mayors office. We then went to Pallas Travel which is in the centre of Lindos (only 5 minute walk from the Mayors office) where all of the travel companies operate from and arranged through the receptionist for the flowers to be made (bride's trailing bouquet, 2 bridesmaids posies and 5 buttonholes for men - 205 Euros) we arranged to collect and pay for them a week later on the Wedding day. We then went to the photographers 1 minute walk away and arranged to have a CD with 200 photo's and 30 prints 7" x 5" which cost 140 Euros. We then had a week to discover Lindos - its such a romantic place with rooftop restaurants and lots of little alleyways - the donkey ride to the beach was like a white knuckle ride! Certainly gets the adrenaline going. The wedding day went really well - we collected the flowers and caught a taxi from the main square (5 minutes from Pallas Travel) over to St Pauls Bay (5 Euros) and walked down the hill to St Pauls Chapel where the Mayor and Groom etc were waiting. The ceremony took approximately 10 minutes. The Mayor then rode his moped off into the sunset and we then continued with having the photo's taken. It might be a good idea to take some champagne with you to prolong the ceremony but the taxi's arrived and we went Pefkos to celebrate. We collected our marriage certificate on the Monday and now have to get it translated, certified and registered at our local Registry Office."

JUNE 2005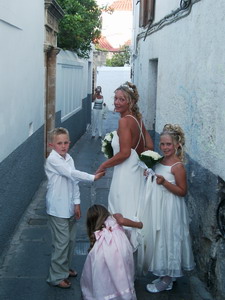 I snapped this bride on 18th June as she was passing a bar I was in. She was putting on a brave face as she had been told, at ridiculously short notice, that she could not get married at the chapel in St Paul's Bay. Instead, she was to be married at one of the small, relatively non-descript chapels in the village.
I didn't catch her name but hope it didn't spoil her day.
I wish her and her husband the best!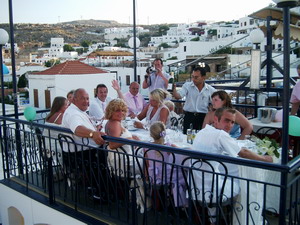 This is Paul & Geraldine
who married on 20th June 2005
They are holding their reception on an upper
terrace of the Lindos Restaurant.
My best wishes and thanks to them and the lady
above for permission to use these photographs.