For those who wish to go "clubbing" after the bars there are a few clubs. One of the best known is the Amphitheatre, which is on the crest of the hill as you enter Lindos from Kalathos.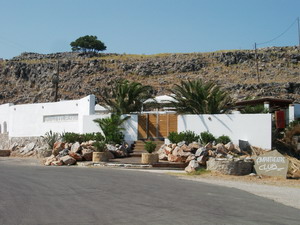 In the village you will find a number of clubs but they tend to change too often to keep track of.
"The Amphitheatre is still going strong" with free taxis from the village for 3+ people.
All the clubs tend to play popular dance music (rather than any particular hardcore dance).

Like the bars, clubs are governed by strict rules to regulate noise.

Be careful when you go clubbing. The safe thing to do is to stick to bottled water or beer - where you see where the drink comes from. In the past, I have suffered drinking gin, poured from an open bottle, when I have been given inferior alcohol which has made me very ill indeed!

If you go clubbling - Please Please respect other residents on your way home by keeping the noise down and behaving sensibly.