Jack usually plays bouzouki on Sunday evenings during the main season - starting at 9.30 - there is usually Greek dancing too. When Jack isn't playing there is a pleasant mix of Greek and contemporary music.
Jack's Bouzoukis are hand made by his father.
To find the bar follow the street opposite the church and walk until you have the Lindos Restaurant on your left - you should see the bar up the street to your right.
This is a great bar for a Hen or Stag party (there was a big "pirate" party while we were there in 2007).

The Courtyard is a great place to hang out - especially when the shots
line the bar! Another line of FUBARs please Jack.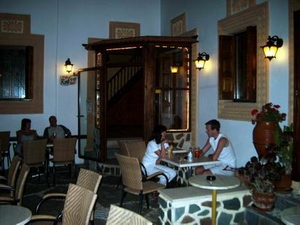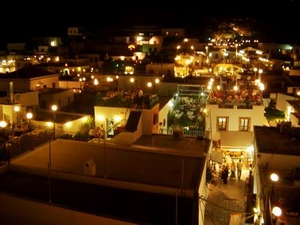 Sit out in the courtyard....... or take in the view from the roof terrace.
If you're lucky enough to be there with a gang of regulars
you can have a really good time.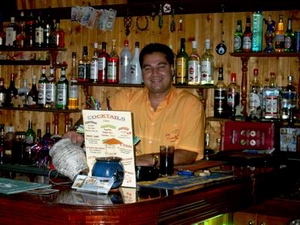 Jack
Drop in to see us - mention you saw us on the website
and you might get a free drink!
If you are going to Pefkos there is a Courtyrad bar there, too. Good food, good drink and good company and there's a great view from the top terrace!