Beaches

Many of the beaches on Rhodes are shingle - which is fine if you prefer that to sand.
You may even prefer to swim off rocks.
Here are a number of beaches from Faliraki down to Prasonisi.

Faliraki

There are those who love Faliraki but it is not for me.
Little passenger trains on the prom - MacDonalds - it's too much like Rhyl.
However - it does have a nice sandy beach!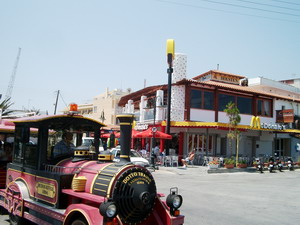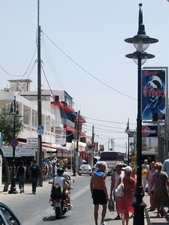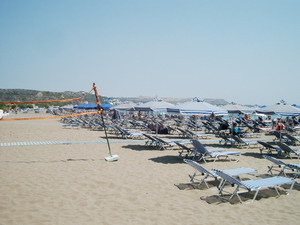 Ladikos
This bay, just south of Faliraki, was once given to actor Anthony Quinn - some filming for the Guns of Naverone was done here. It is made up of two rocky coves - very attractive.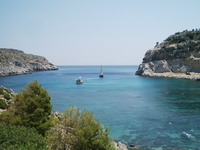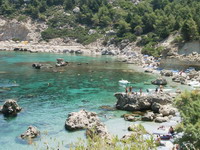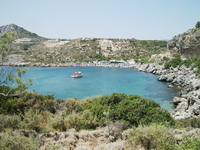 Afantou
Afantou is an incredibly long shingle beach - very open.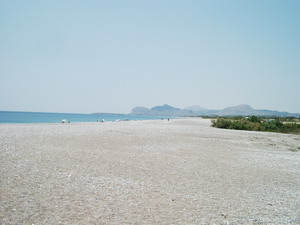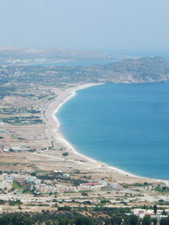 Kolimbia
Kolimbia looks like a neat resort but I have only seen it from the top of Tsambika.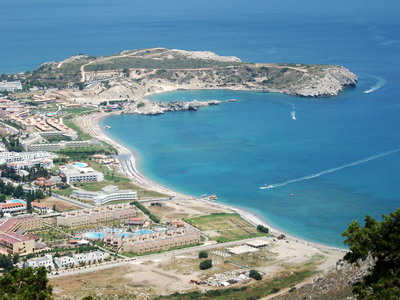 Tsambika Beach
This is another shot from the top of Tsambika.
This is regarded as one of the best beaches on Rhodes.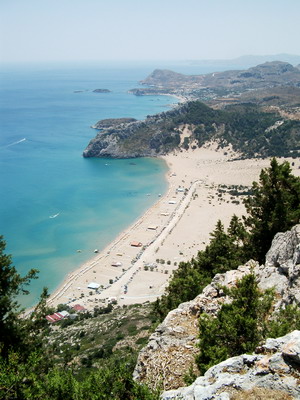 Charaki
Charaki is a fishing village which has become a "fish restaurant" trap.
It's fine if you have plenty of money to spend on sea-food.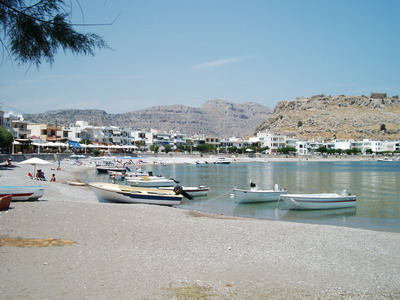 Pefkos
Pefkos has a pleasant beach and is well liked as an alternative to Lindos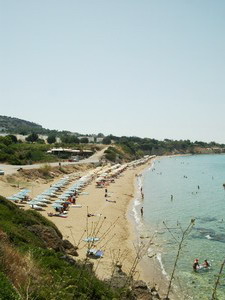 Kiotari
Attractive to visit but not desperately appealing - a shale beach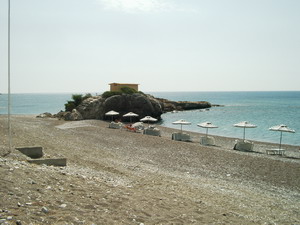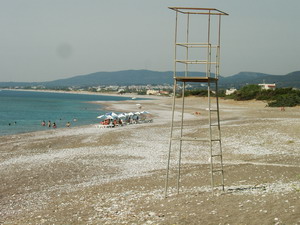 Gennadi
Gennadi was about as appealing as Kiotaro - an empty beach on 19th June!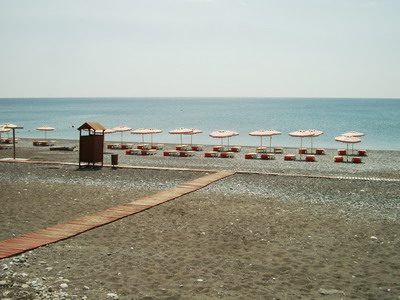 Plimiri
At least there was life at Plimiri - fishing boats. The beach is backed by reeds and dunes.
It was more interesting than Gennadi but still less hospitable than I prefer.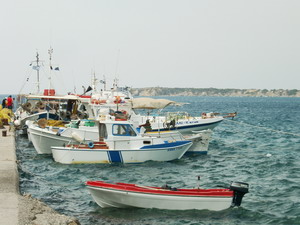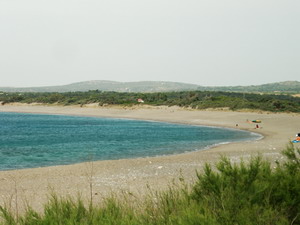 Prasonisi
Prasonisi is for the serious water-sporter.
Either side of this spit of sand at the very tip of the island is a flurry of windsurfers (left side)
and kite surfers (right side). There are pro-stores and many enthusiasts.
You would be very foolish to try to swim here!
It was great to see the surfers - quite a spectacle!