The Skala opened in 2005 and is one of the best places to eat on the Pallas Beach. It is owned and run by Sotiris Diakoulas who owns the Lindos By Night bar and is the brother of Paul Diakoulas who owns Dionysos.
There is a front terrace with fans which extends to a sun terrace with sun shades. There is also an upper terrace with large sun shades.
They have a great cook, a good menu and, sometimes, dishes you won't find in other restaurants. The lunchtime specials this year (2008) were superb. The fries cooked in oil and with oregano are excellent.
Once a week the Skala lays on a B-B-Q. You need to book if you want to go. In 2014 it cost 15 euros a head and that included a a free drink and entertainment.


There are usually four types of meat - lamb ribs, pork souvlaki, village sausage and chicken. There is also a table with a large range of side dishes - potatoe, abergine, tsatsiki, tomatoes, peppers. You can eat as much as you like - one huge plateful was enough for me, although I could have gone for a second round.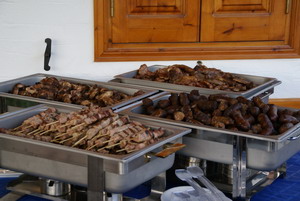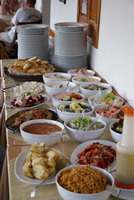 Live musicians and Greek dancing in 2014 (including lifting a table and chair with the teeth).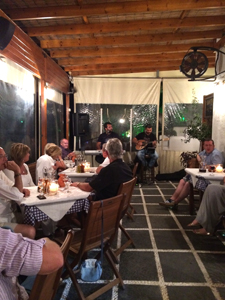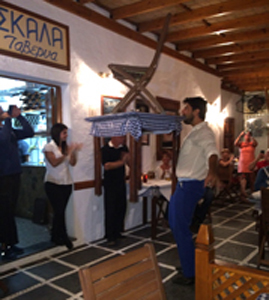 The Skala also caters for weddings - drinks reception on the upper terrace, wedding dinner on one half of the lower terrace and dance floor on the other - and just a short walk from the jetty when you arive by boat!