Posted 21st October 2014
Lindos now boasts the largest "Ice Bar" in Europe. Why on earth anyone would want to pay 12 euros entrance fee, including one drink, to wear a not exactly flattering, warm, military looking, long hoody to sit in a room made of ice I donŐt know. Beats me! It certainly is not what I go to Greece for.

Posted 20th October 2014
I enjoyed my first ever September period in Lindos this year. It is actually busier than end of may and early june as the schools are back and many Lindos veterans prefer this time. The sea is so much warmer. too.
The standard of food was better than we remember. We eat at Mavrikos (great Rooster in Red Wine), Med East, Dionysos (eat early or book to avoid the queues), Kalypso and Philosophia in Pefkos. The meal at Philosophia was possibly the best I have had in Greece and the sunset is stunning there. We also eat at the Skala (best food on the small beach), attended their BBQ and eat at Mare Mare one night.
While we were there there was a volunteer "Clear Up" day. The amount of rubbish being thrown down is alarming. Please keep Lindos clean while you are there. T-Shirts were made for the day (We Love Lindos) and 70% of sales is going to buy bins for the village.
There is clearly evidence of accommodation in the village being upgraded and that can only be a good thing.

Posted 17th June 2012
Facebook Page
Just a note to say that much of the current observations is discussed on the Lindoseye.com Facebook page.

Posted 16th May 2011
Il Palazzetto
Lovers of Il Palazzetto will be sad to learn that the building has been sold and that the restaurant is not open this year - at least not as yet. It remains to be seen whether or not it will reopen elsewhere.


Posted 11th April 2011
Message from Peggy (Sinatras as was)
"Hello All Sorry that this is a 'round robin' email. I would have written to everyone individually but time is running out and I shall not have the time. The reason for this is that Mike, Kara and I have found a new venue for our restaurant. Many of you will remember us at Sinatras in Lindos. Our last season there was in 2009. We closed due to a horrific increase in rent together with ongoing problems with the building itself and the landlord. After a series of setbacks in 2010 both in finding a new venue and my then ill health, we have finally got good news to share. We will be opening 'Bojangles' restaurant in the nearby village of Lardos, just a few miles from Lindos, on 20th April (fingers crossed - we are working like demons towards that date). It is a small building, just enough for the three of us to manage unless we get mobbed! It has a sweet little alfresco eating area and a (very) small area inside that will seat a few who just want a drink or to pop in and say hello! We have changed the name primarily due to the size - we couldn't hope to house all the Sinatra stuff in it. Also we thought it right to have a fresh start as it is in a different location with a different 'feel' to it. Note to Fiona, Les and Hannah - Marilyn, has found a home on the wall in the little bar - as promised x Although most of you stay in Lindos it would be lovely to see you again even if it is just to drop by to say 'hello' - we have really missed seeing everyone. Here's to Summer 2011. Kindest Regards Peggy, Mike and Kara xxx"


Posted 3rd October 2010
Sinatras
I understand that the announcement in April that Sinatra's had opened in Kalathos was wrong. Sorry about that but I have only just been told. Peggy tells me that they are still looking for an alternative venue for next year.

Posted 30th May 2010
General Bits & Pieces
I hear that the temperature is 30 degrees on the Pallas Beach at the moment. I have also heard a complaint that everything is way too expensive this year, that the loungers are expensive and that there are too many. However, the price of loungers hasn't gone up in years, I am told that there are the same number as last year and I understand that menus (on the whole) have kept to last year's prices.
The Lindian Indian restaurant has closed and Nikos Bar has bitten the dust. Lindos By Night has been revamped and Nightlife is now "Glow".
There are a couple of new jewellery shops - one belonging to Dimitris Dimitropoulos (used to work at Skala and Med East) which opens Friday (I think). The word is that there is better stuff for sale in the shops generally.
The Mayor said that there would be signs on the beaches warning people about dog regulations - sadly this is not the case. I hear that a resident's dog went for someone recently. I have written to the Mayor about this.

Posted 2nd May 2010
Message from Manolis Pallas - the Mayor.
Dear guests,
I welcome you to our town, Lindos, an important historical place on the island of Rhodes.
Picture-perfect Lindos town, the hospitality of the locals, the stunning beaches, the tranquility during the day time and the pulse of the night life, the delicious tastes of the local Greek cuisine and the general atmosphere of the area will undoubtedly make you love Lindos once and for all.
As Municipality of Lindos, our main goal, is to advance our services to our citizens and public audience, sustain our national heritage entity and make all the possible actions for our town to remain friendly, pleasant and clean to our visitors.
You are welcomed to enjoy your stay to our exclusive upmarket destination and share with friends and family the true experience of traveling to Rhodes Island.
Wishing you an unforgettable holiday,
With Kind Regards
Manolis Pallas
Mayor of Lindos

Posted 25th April 2010
Lindian House Tour
The Lindian House Tour is on again! Don't miss it.
Proceeds to benefit the rehabilitiation of young Vasilis as before.


Sinatras
Good news about Sinatras. It is open again in kalathos in what was the Olive Grove Bar.
It is only a 5 minute taxi ride from Lindos.
Posted 16th March 2010
Sinatras
Sad news. Sinatras will not be open in Lindos this year. Spiralling rents and falling trade in the village have forced Peggy, Mike and Kara to rethink their business plans. Yet another indication of the damage being done by developments at Krana.
Posted 7th October 2009
Dogs Update
Manolis Pallas, the Mayor, tells me that according to the Greek laws, dogs are not allowed on all organized beaches during the summer time. He says the problem is persuading the owners to obey the law. Next year he hopes to have signs on all beaches outlining what is not allowed on the beaches. This initiative is not just aimed at the dog problem but also the rubbish problem and others.
Posted 7th June 2009
I came back from Lindos on 29th May and have a few things to mention...
Village Accommodation
The Tour Operators's preferment of Krana to the village accommodation continues to cause problems for businesses. There are fewer people staying in the village itself and fewer bodies on the beach and fewer bums on seats in restaurants and bars. This has led to a tangible unease which has increased since last year. The situation has not been helped by the closure of the Pallas Travel Agency office and, consequently, the removal of a focal point of access to holiday reps. The reps are now based at Pefkos.
Dogs
Further to the complaint made last year about dogs fouling the beach the problem arose again this year. An Italian working at Alex's Restaurant on the Pallas Beach allowed his dog to pee on my grand-children's beach toys. There were as many as four or five dogs on the beach that day. I have yet to take this to the Mayor again but another official suggested that the dogs should be killed. I don't believe this is a solution and will press for a ban of dogs on the beach. There is simply too congested a number of holiday makers to allow the risk of dog fouling and the danger it presents to the youngest children.
Nicol Williamson
Should you recognise former actor Nicol Williamson in the village I advise you not to approach him as you are likely to get a rude response. He clearly wants to be left well alone so, please, keep clear of him.



Posted 9th November 2008
One of the many Lindos regulars who have been in touch tells me that the deli Swedco, near the Palazzetto Restaurant, has changed its name to Melia. Also, that there is a new restaurant called Kamariko near to The Lindian House Bar.
One particular concern raised with me this year was the fouling of the beach by local dogs. I raised the issue with the Mayor, whose family I have known for many years. He took the comments on board and said he would consider the provision of "poop" bags.



Posted 17th July 2008
Early on Tuesday morning July 15th an earthquake hit Rhodes. The quake, registering as high as 6.4, occurred on the seabed to the south of the island. Reports indicate that it was a pretty scary experience necessitating the evacuation of hotels. There doesn't appear to have been any structural damage and only one death was reported. A woman at Masari panicked and slipped on a staircase, falling to her death.



Posted 11th June 2008
The Tours of the famous Captain's Houses of Lindos was a great success and raised a lot of money for young Vasili's treatment. This level of fundraising is a new concept in Lindos and, hopefully, we will see more of this.
As mentioned on the Useful Info page take extra care of your valuables. Uncharacteristically, there was an alarming level of crime in May this year and, while many Greeks will insist that it is not possible for Greeks to steal from tourists, the evidence is fairly damning. We had cash and passports stolen from a handbag in a bar. There is no getting round it. One bar owner remembers seeing the folder containing the cash and passports being zipped up safely in the handbag. Even though the bag wasn't opened again, later that night, the empty folder was on the floor of another bar we had gone to and the contents gone. A few days later a Greek lady who lives in Lindos overheard two Greeks in the square planning which bars they would go to to steal that night. She is sure they were from another village. The passports were found discarded in the square later that night.
The other incident involved British people who tried to steal jewellery from one of the village shops. This was no small shoplifting moment this was a deliberate attempt to steal a quantity of jewellery. They were caught and would not have enjoyed their brush with Greek police and Greek justice.
Talk of the theft of our money brought out other stories of thefts in the last year or so. Be careful!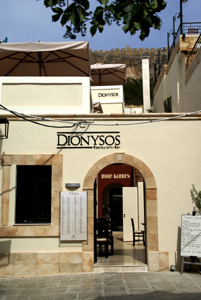 The forced removal of some of the illegal restaurant platforms has had some good effects. One is the refurbishment of Dionysos Restaurant. Congratulations to Konstantinos and Mary Diakoulas on a great job. You can see the results on the Restaurants page.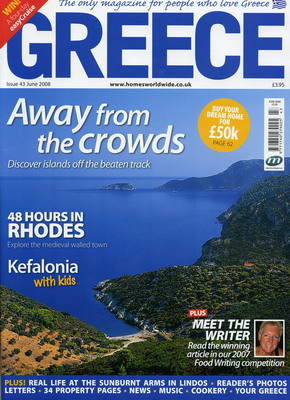 Friends of Cliff, Rena and Nat at the Sunburnt Arms will be interested to know that there is a feature on them in the June 2008 issue of Greece. You should be able to buy a copy at newsagents like W H Smith and Borders.



Posted 5th May 2008
On 1st, 2nd & 3rd May there were tours of the famous Captain's Houses of Lindos.
All proceeds from these tours went towards the treatment and rehabilitation of Vasili, a young man injured in a traffic accident. Hopefully, there will be further tours and, if so, I will post a notice on the site.

Posted 21st June 2007
The current Mayor is continuing in his endeavours to return the town to a more natural state. It is rumoured that satellite dishes will be banned in the near future and that a system of cabling will deliver the sports feeds popular in many bars. He has also barred deliveries (small vans and motorcycle trucks etc) in the town between 8.45 am and 5.00 pm (or thereabouts) to keep the streets clear for tourists and donkeys. He has also barred donkeys from the streets after 6.00 pm.

The Pallas Travel Agency has moved from the corner/junction near the Apollon Bar to the house next door to the Lindianet Internet Cafe.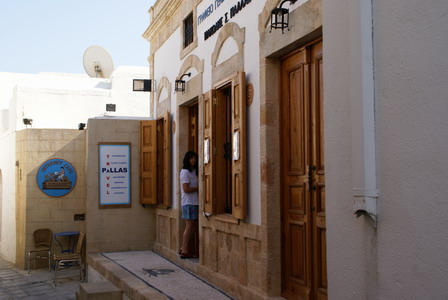 I spotted two new delicatessens in the town.
Swedco is by the Palazetto restaurant and the Village Cafe is on the corner beyond the Apollon Bar.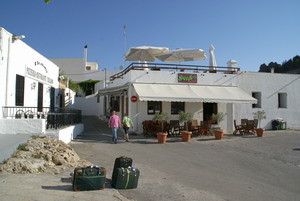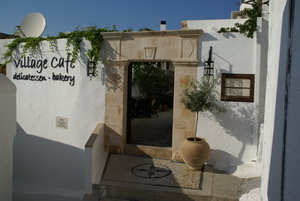 Tassos (in the hat - who used to work the Courtyard Bar and then Lindos by Night) and his brother are now running Nikos Bar - just up from the donkey station.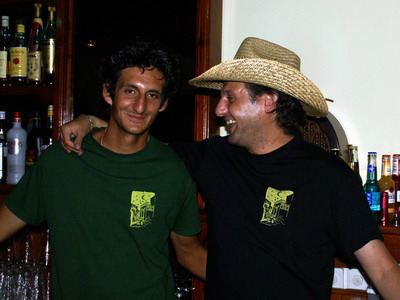 It is rumoured that the Amphitheatre Club will be replaced by a medical centre.
Posted 28th May 2007
I have heard that the Council has passed new legislation banning restaurants and bars from using any platforms or space other than their own natural roof space. This means that restaurants such as Dionysos and The Lindos Restaurant (to name but two) have been forced to remove some higher platforms which have been in use for years. While this will reduce the almost attractive, Dali like, surreal eating platforms and create a more natural architectural setting or view, it will lead to reduced employment of an already struggling workforce and reduce the areas of breeze which many aspire to on hot evenings. It will please some and disappoint others. I hope to have some new photos by the end of June.
Another thing which has come to my attention is that the Lindian Way website has closed. This leaves me as the main information site for Lindos.
PREVIOUS POSTINGS
The new arena for Greek Theatre, dance and other events has been finished. Here is a view looking towards St Pauls Bay. Il Palazzetto, the Italian restaurant, is to the right.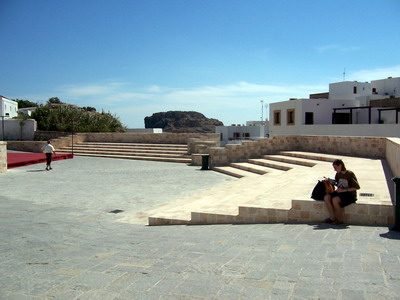 Another change involves the parking and traffic arrangements.
All the parking on the beach road and the car park at the back of the village (by Lindos Reception) is now Pay & Display - I believe it will cost you €3 for the day.
The car park below the back car park is still free.
You will also find Traffic Wardens directing traffic and checking parking tickets.
They have black shirts and caps and do a great deal of whistle blowing.
They are very officious and fascisti like...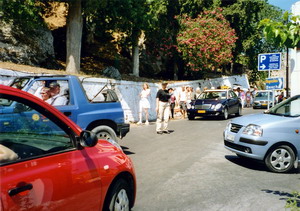 There is a big change on the Pallas beach. The Villa Scala, which my family stayed in from 1984 to 1987 and which has been unused (virtually derelict) for many years, has been refurbished by Sotiris Diakoulas (Lindos By Night) as a teverna and is doing a roaring trade on the beach. It is pleasant and the food is good. Here it is as it is now...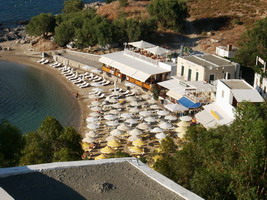 Return to Top of Page